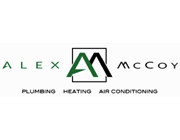 Alex McCoy's Plumbing and Heating is a full service plumbing, heating and air-conditioning contractor that offers Residential, Commercial and Industrial, Plumbing, Heating and Air-Conditioning services in Kingston Ontario. We are seeking a reliable and enthusiastic HVAC Technician to join our team.
As a HVAC Technician you will be playing a critical role; installing, service or repairing heating and air conditioning systems in both residential and commercial establishments.
Ideally, you will have:
High School diploma
Licensed G2 Gas Technician with a at least 3-5 years experiencein both HVAC service and installation
Minimum 313D Certificate of Qualification in refrigeration
Working knowledge of the Gas/oil code, Plumbing Code, Electrical Code, Refrigeration guidelines, Pressure Vessel guidelines and Fuel approval guidelines
A valid G driver's license is required with a clean driver's abstract
Benefits: ‪Comprehensive benefits package
Anticipated Start Date: ‪As soon as possible
Please forward your cover letter with salary expectations and résumé in confidence to resumes@hr-ondemand.ca. Thank you for your interest. Only those selected for further screening or an interview will be contacted.
We are committed to maintaining inclusive, barrier-free recruitment and selection processes and work environments. If you are contacted in relation to this or any other job opportunity or testing, please advise a representative in a timely manner of the accommodation measures which are required in order to enable you to be assessed in a fair and equitable manner. All information received relating to accommodation measures will remain confidential. Please note that we will not automatically consult accommodation requests from prior selection processes.