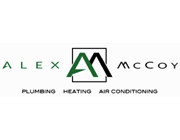 Alex McCoy Plumbing & Heating is a full-service plumbing, heating and air-conditioning contractor that offers Residential, Commercial and Industrial, Plumbing, Heating and Air-Conditioning services in Kingston Ontario. Alex McCoy Plumbing & Heating is dedicated to providing our clients in the Kingston area with honest value and excellence in customer service and satisfaction.
To support our continued growth, we are looking for a high energy, results focused individual to join our dedicated team. To learn more about us, please visit www.amph.ca
To learn more about relocating to our beautiful city, please visit www.kingstoncanada.com
Key Responsibilities
Represent McCoy's in a professional, courteous and customer service oriented manner on each and every call.
On-site problem diagnosis, accurately estimate repair costs, fixed right the first time and continual value-added communication with the home owner
Install, maintain and repair all types of piping systems, fixtures and other equipment used to distribute, supply or dispose of water or wastewater; including fixtures systems and appliances in residential buildings
Set priorities and work assignments to meet established deadlines
Perform diagnostics, repair, maintain, service and install equipment in accordance with manufacturer specifications
Adhere to all safety rules and procedures and relevant regulatory requirements.
Perform general and specific equipment inspections
Maintain up-to-date knowledge of all modern equipment and regulations
The successful candidate will offer the following:
Be a Registered Licensed Plumber with a minimum of 5 years experience
A stable work history and references
Driver's license with clean drivers abstract
Must be physically capable of performing all work required of this position
Excellent verbal and communication skills
Strong interpersonal and problem- solving skills
Outstanding customer service skills
Experience in HVAC, Electricity, and Mechanics is considered an asset.
Qualified candidates are invited to submit resumes to resumes@hr-ondemand.ca in confidence. We thank all candidates who apply. However, only those selected for an interview will be contacted.
We are committed to maintaining inclusive, barrier-free recruitment and selection processes and work environments. If you are contacted in relation to this or any other job opportunity or testing, please advise a representative in a timely manner of the accommodation measures which are required in order to enable you to be assessed in a fair and equitable manner. All information received relating to accommodation measures will remain confidential. Please note that we will not automatically consult accommodation requests from prior selection processes.